WELCOME TO MSC CAR STORAGE
At MSC Car Storage, we specialize in providing safe and secure storage solutions for your cherished car or motorbike. Our facility is discreetly located in the heart of the Kent countryside, yet conveniently close to major transport hubs like Ashford International Station and the M20, M25, and M2 motorways.
We offer both short and long-term car storage options to meet your needs. You can trust us to keep your vehicle safe and secure, with 24/7 surveillance and top-of-the-line security measures in place. Whether you need to store your vehicle for a few weeks or a few months, we have the perfect solution for you.
SECURITY
Our site is accessed through two electrically controlled automatic gates that are constantly monitored. In addition, our building is protected by a 24-hour monitored alarm system, and we have full indoor and outdoor 24-hour CCTV camera coverage to ensure the safety of your prized possession. You can have peace of mind knowing that your vehicle is in good hands with us.
SERVICE
Before entering our storage area, we will carry out a thorough series of checks and treatments to ensure that your vehicle remains in top condition throughout its stay:
Verification of the owner and vehicle ID, uploading customer details to our database
Performing a visual inspection of the vehicle with the owner present
We will also wash the exterior and vacuum the interior
Check fluid and battery health
Record tyre pressures before increasing them to the maximum PSI for storage
To ensure accurate documentation, we will photograph and record the condition of the vehicle
Install seat covers and floor mats for added protection
Apply the brakes to remove any surface rust caused by washing
Allow the vehicle to air dry in our facility for 24 hours
If you choose to disconnect the battery during storage, we will take care of this for you
Fit a soft, breathable car cover to your vehicle to keep it dust-free and protected
After the process is complete, condition report and photos emailed to customer
You can trust us to provide top-quality care for your cherished vehicle.
When you're ready to collect your vehicle, we'll carry out a series of checks to ensure that it's in top condition and ready to hit the road:
Reconnect the battery if it was disconnected during storage
Perform fluid checks, as well as check the tyre tread depth and pressure
To ensure that the vehicle is running smoothly, we'll run it up to the optimum temperatures before handing it over to you
Check the DVLA to ensure that the vehicle has a current MOT. If the MOT has expired or is due to expire soon, we can arrange for an MOT test at an additional cost
Our goal is to ensure that your vehicle is safe, roadworthy, and in top condition when you leave our facility.
Pricing
£37
p/w
Our standard weekly rate for car storage is £37 for vehicles up to 4.5 meters in length
If you require a plug-in battery conditioner for your vehicle during storage, we offer this service for £2.50 per week.
Oversize vehicles will be subject to additional charge dependant on size.
All details can be found in our terms and conditions
MAINTENANCE & WORKSHOP FACILITIES
We go above and beyond simply offering fixed-price storage solutions. We understand that vehicle owners want their prized possessions to be well-maintained, and that's why we offer a tailor-made maintenance program through our sister company, Maidstone Sports Cars. In addition, we provide full workshop facilities for all your vehicle-related needs.
Our services include not only secure vehicle storage, but also light servicing, MOTs, and full restoration services. With our state-of-the-art facilities, we are fully equipped to cater to your every vehicle storage and maintenance need.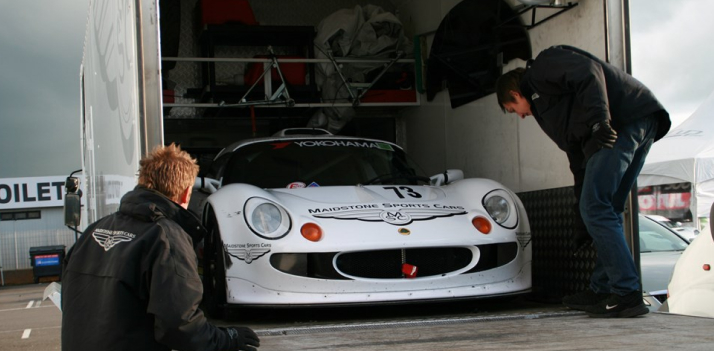 LOGISTICS
We offer more than just secure storage solutions. Our covered transport service provides collection and delivery of your vehicle right to your doorstep or any other location. Whether you need individual or multi-vehicle transport, we can arrange safe and reliable transportation anywhere in the world.
For those who prefer a personal touch, we also offer driven transport services. Our professional drivers will personally transport your vehicle to any location with the utmost care and attention.
And you can rest assured that every vehicle in our care is fully covered by our comprehensive insurance policy. Your vehicle's safety and security are our top priority.